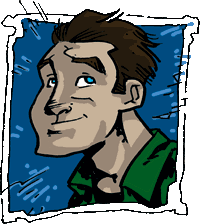 Jeffery "DarkOra" Stevenson (Austin, TX) is the writer and letterer of Brat-halla, and it was his love of mythology that gave birth to this creation. In the past, he has worked as a writer-for-hire for Jim Valentino's Task Force 1 (for Shadowline/Image Comics), co-wrote and edited the BloodRayne: Skies Afire video game to comic adaptation, wrote a number of short comic stories for Digital Webbing Presents, wrote and lettered the Spook'd webcomic and self-published the comic Steampunk Faeries (with Brat-halla artist Seth Damoose).
Jeff's Facebook – Jeff's Twitter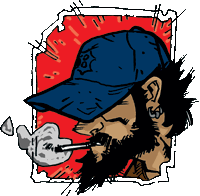 Seth "Dam" Damoose (Grand Rapids, MI) is the illustrative genius behind Brat-halla. He says the "Dam" is short for Damoose, but I say it's short for "Dam talented and dam fast." He's the artist of the Shadowline/Image Comics series Xenoholics and the Image mini-series, I Hate Gallant Girl. He was a finalist in Comic Book Resources' "Comic Book Idol II", drew the Spook'd webcomic and worked on the self-published comic Steampunk Faeries.
Seth's Art Blog – Seth's Facebook
Anthony "D" Lee (formerly of the UK) brings the color to Brat-halla (he's reverted to Anthony D because there's another "Tony Lee" from the UK in comics). He started out helping us with our Spook'd online comic and started working on Brat-halla after our last colorist had to leave. He still colors Brat-halla and gets the job done on time every time. Even with the work for Brat-halla and numerous other comic projects, he still found the time to write articles on the craft of coloring for Sketch magazine.