An Update! Austin Comic Con
on
November 11, 2011
at
12:25 pm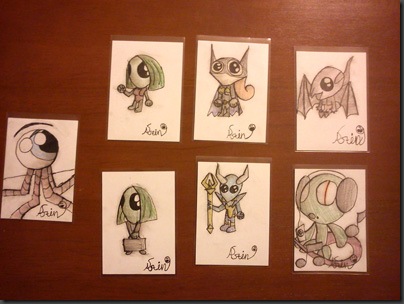 It's been a long time since I've posted here.  I've been busy with work and a few other projects (along with a novel, a Brat-halla text-based adventure game, print volume 2 of Brat-halla and a print volume of our Spook'd webcomic) and Seth has been busy working on a fun comic for Image called Xenoholics (by him and our friend Joshua Williamson).
But things are finally beginning to slow down all around to where I'm able to finally make an appearance this year (I've had to cancel three other conventions this year due to conflicts with work and personal issues).  I'll be at the Austin Comic Con this weekend (November 19th-21st Edit: November 11th-13th… been so busy I'm even mixing up dates for events now) at Artist Alley table 2412.  I'll be there with my 10-year old daughter (the co-creator of the Backup Dad storyline) who will be selling sketch cards.
Seen above are some samples she drew this week in preparation for the show–Odineye, She-Hulk (and Lawyer She-Hulk), Batgirl, Blue Devil, DragonMan, and a custom character she created.  If you're in the Austin area or within driving distance, be sure to stop by and chat.
Look for more news here soon. 
–Jeff